Today I had a few (unusual) minutes just to sit, and it had me reflecting on Mother's Day. The Mother's Day that was this past Sunday. The Mother's Day that did not quite make it to our house. But that is a story for another day - a story that one particular male member of this family would prefer to leave untold.

As I was pondering this whole mom-thing, I realized that becoming a mother has flung me into an entirely "other" social realm. When I am out in public with one or all of my "attachments", I can be certain of at least one or two heart-to-heart conversations with complete strangers. But they do not regard themselves as strangers at all. They share the name "MOM" and therefore we are friends - and the kind that instantly can share in deep dark secrets. These secrets are commonly known as

The Joys and Horrors of Childrearing.

And believe me, they share it all! It is like this implicit MOM-social club that I find myself by default registered and immersed in. A trip to Target affords me more than groceries and cleaning supplies. I leave with a mind and heart loaded with advice and warnings about boy-rearing, condolences that there is no female flower in my household and best wishes for the inevitable fractures, stitches, snakes, rats and other exceptional boy-stuff I'll encounter.

Among these friends I always find a few who regard me as a particularly

unique comrade

: a women set apart from all others because she has been chosen to be mom to

3 boys

. These comrades all have passed through the fire and rainbows of raising three boys and we have an instant bond with one another. (Strangely enough I hardly ever have a mother of 4 or more boys stop me… maybe they never make it to the public world… maybe they did not make it at all?

:-o

) The words I hear most often from these extraordinary women (and I love to hear it) are: "Boys just

luv

their Mama, and they continue to do so even when they become big boys." These words never fail to encourage me, and on such days I bask in my identity as MOM. That is Boy-MOM to be happily specific.

Then there are the un-MOM-days. That would be the few atypical days (or rather hours) that I am out in public with

NO child

by my side or on my hip. They are the happy moments when I am totally

invisible

and unimportant to the world. No one offers suggestions, opinions, warnings or advice. Nobody even looks at me – in fact, even the cashier has a long-distant conversation over my head with her co-worker who is re-arranging the carts. I move as if in a

cloud

. I hear "mamma, mamma, mamma!" all around me, but I know it is not my name – at least not for the few precious moments I find myself in. These are the blissful moments of having all the benefits of being MOM, yet temporarily unrecognized and unclaimed.

So whether Mother's Day makes it unto our calendar next year or not, I will continue to appreciate the days in-between, cherishing the sparsely scattered un-MOM-moments and mostly being an established member of the illustrious unspoken MOM-club. It is a source of endless humor, reassurance and encouragement for me – what a club!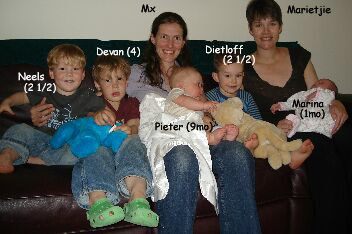 The other MOM in this picture is my sister-in-law, Marietjie. She is holding the only splash of pink in our entire family - little Marina. May I add that the boys sat still for this picture for about 2 seconds and that it was captured at all qualifies it as a miracle.