Some weeks are just so
over
whelming. Last week was one of those…
This
week, Monday was threatening repeat p
a
n
d
em
o
ni
um
, and intervention was desperately needed. Something had to be done.
Anything!
So when Martin decided to take 3 steps on Tuesday, I promptly tr
i
p
p
ed him.
(OK, I'm kidding, but I was relieved when- after 3 brave steps- his padded bottom descended with a "thud" onto the rug.)
You see, I am just not
quite
ready for the transition of power to an
"All-Male(s)-Run"
household. I know,
I know
. It is inevitable and I live in utter
denial
: I have been outnumbered ever since Scott-Clone#1 arrived. But while
(I think)
I can successfully deceive myself, I will continue living in my pseudo state of rule – i.e. while Clone#4 is still lacking mobile autonomy.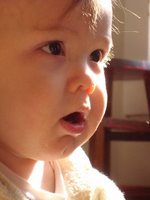 When
he
starts walking I will be consigned to Guard-Of-Disaster-Zone, Professional-Upheaval-Observer-And-Pacifier, Demolition-Controller and Futile-Shielder-Of-Mishaps. But the
real kicker
is that I will instantly lose my
Swiffer-In-Residence
! Oh no,
no
,
no!!!
If I can facilitate it at all, "we" will not trade the horisontal for the vertical posture until… until… until I really cannot do anything about it. Which may be tomorrow…. Sigh.