While "reading" his

(very unusual translation of the)

Bible this morning, Neelsie inquired of our Wise-Man-In-Residence:
"Daddy, was Pharaoh bad?"

Wise man:
"Yes, he kept Israel in bondage."
Neelsie:
"Daddy, did he get in trouble?"
Wise man:
"Yes, he did."
Contemplative silence…

Neelsie:
"Daddy where does Santa keep his sleigh?"
Wise man:
"Uhhmmm… well… I…"
Neelsie:
"Where does he, daddy? Like, when he comes back to the Elves. Where?"

Wise man exits room to get more strong black "thinking juice" (i.e.coffee) to help him transition from Pharaoh to Santa.

Neels seemed unaffected by this move and kept on reading, semi-audibly:

"Mumble…mumble…mumble…

and th-e-n…

something… something…mumble,

but Pharaoh got no presents!"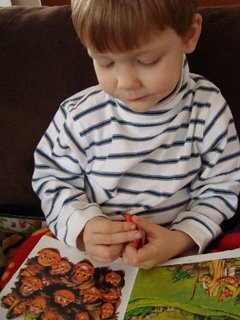 End of story.